SnipWire - Snipcart E-Commerce Plugin for ProcessWire
With SnipWire, you can quickly turn any ProcessWire site into a Snipcart online shop. The SnipWire plugin helps you get your store up and running in no time. Detailed knowledge of the Snipcart system is not required.
What is SnipWire?
SnipWire is the missing link between the e-commerce solution Snipcart and the content management framework ProcessWire. The SnipWire ProcessWire plugin is completely free and open source!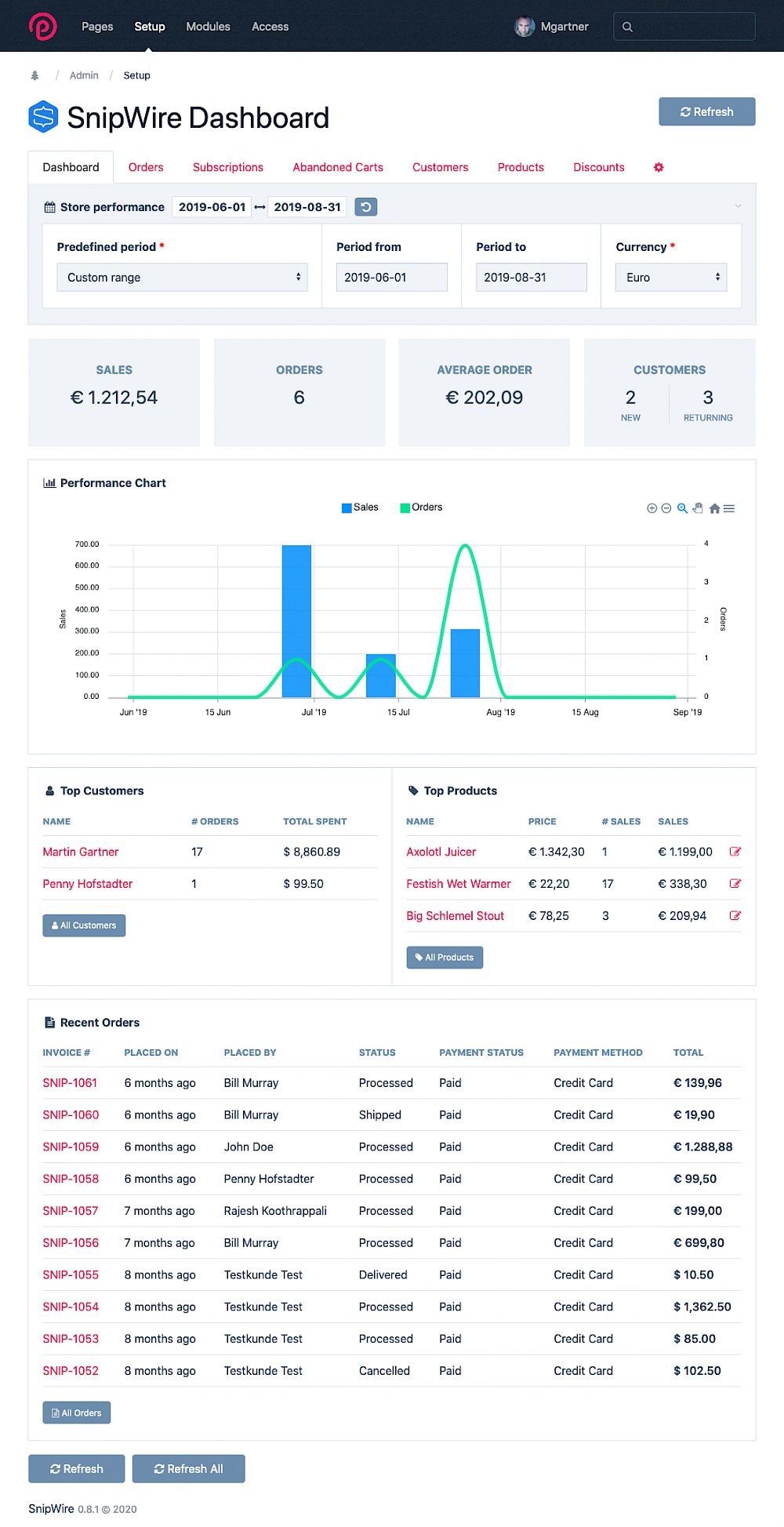 Plugin Core Features
Fast and simple store setup
Create a Snipcart account, install the ProcessWire plugin, finish plugin settings, create your products and you are good to go!
Full integration of the Snipcart dashboard into the ProcessWire backend
The SnipWire admin area is designed to map all features of the Snipcart Dashboard (whereever possible). It is not necessary to switch to the external Snipcart website.
Browse and manage orders, customers, discounts, abandoned carts, and more
SnipWire provides comprehensive lists to manage orders, subscriptions, abandoned carts, customers, products and discounts. Each list can be searched and filtered.
Multi currency support
SnipWire supports multiple currencies payments and the dashboard displays the store performance filtered for the respective currency.
Process refunds and send customer notifications from within the ProcessWire backend
You can easily refund an amount or send notifications to your customers directly from within the ProcessWire admin. Just click on the desired order, fill in a form and hit send.
Process Abandoned Carts + sending messages to customers from within the ProcessWire backend
SnipWire provides a nice overview about orders which weren't finished. You can easily send a message to the customer to remind them of their open order.
Complete Snipcart webhooks integration (all events are hookable via ProcessWire hooks)
Snipcart sends a request to SnipWire whenever an event occurs, such as a new orders are created, new customers are registerd, and so on. You will be able to react to those requests by hooking into predefined methods.
Integrated taxes provider (which is more flexible then Snipcart own provider)
Beside the builtin Snipcart taxes provider (and some external services), SnipWire is able to act as a custom taxes provider for Snipcart. Especially the calculation of shipping taxes is very flexible compared to Snipcarts own calculation.